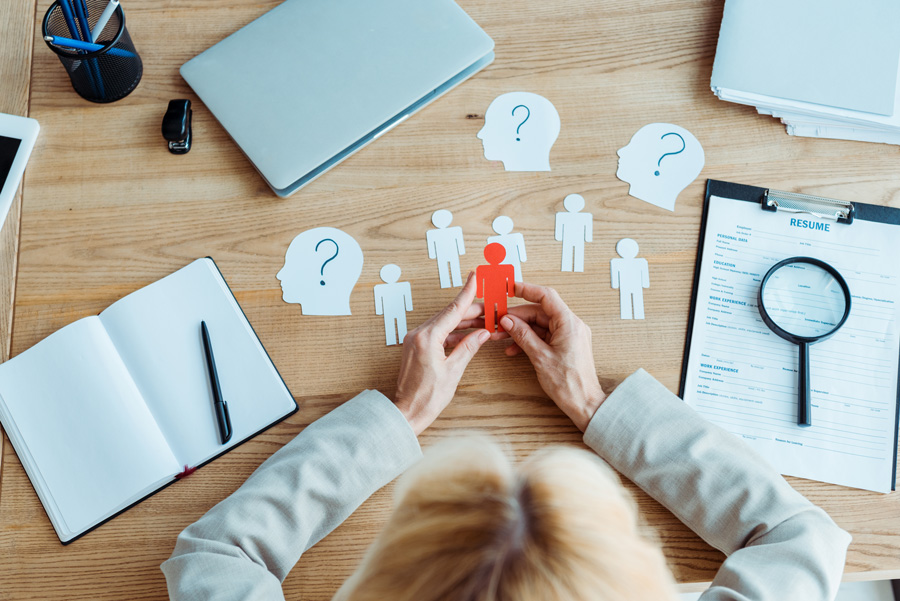 It's so tempting, isn't it? When all you hear on the news is that there are plenty of candidates looking for work and it seems like recruiters charge an avoidable fee, you start thinking 'maybe we should handle the hiring in-house'. We all know 2020 hasn't exactly been good news for the employment rate, so surely it can't be that difficult to hire HVAC specialists to join your team.
Fast forward a couple of weeks, and you find yourself knee-deep in poorly formatted CVs, trying to arrange interviews with candidates who don't call you back, or worse, you're waiting for candidates who don't show up to the interview you arranged. What a waste of time and energy for everyone involved. Plus, your sales and day to day duties will suffer while your attention is diverted.
That's exactly where recruiters like Calibre come in; we do the legwork for you. All of the time-consuming processes to move your recruitment along, all the people headaches, all those emails and calls – we take them on for you.
Still not quite convinced? Here are our top 7 reasons to use a specialist recruiter rather than try to hire yourself.
Find the passive candidates
Let's start with the biggie. Direct hiring usually limits you to people who are actively looking. Putting an advert out on a job board or social media means you'll only find people who make a conscious effort to look for a job. If it was a simple as that to hire someone, recruiters like us wouldn't exist. Nearly always, the more talented HVAC or refrigeration specialists you need are already in work, we know these people, and we know how to target them.
Specialist networks
Leading on from the above, recruiters like us at Calibre have built up a vast network of engineers. Our equivalent of a 'little black book' is full of qualified and trade checked people who we make a point of staying in touch with. We keep our contacts warm; we know when they're thinking about their next move. We target our specialist networks through social media posts, direct emails, calls and posting on multiple job boards to gain the widest reach possible to find you the best talent.
We review

all

candidates
The good, the bad and the ugly - we review each one. We know how to spot the cowboys (or girls) and well, not quite run them out of town but they are screened out with a 'thanks, but no thanks.' It's our job to review all applicants to the job in question. It's time-consuming, but wouldn't you rather be doing your day job? Leave the early screening to us. Our experience means we can quickly identify those with the right skills, experience and attitude to meet your criteria. It's also down to us to check out the candidate's motivations for finding a new job. We want to make sure that they intend to not just join your team but stick around and contribute to the business long-term.
Let us handle the pre-screen phone interviews
Again, this time-intensive process is where recruiters come in. Our consultants can arrange and conduct first stage pre-screen interviews to help whittle that shortlist down. Our expertise means we can spot the time wasters and those who would take counter-offers and stick with their original employment (the latter is beyond frustrating for those involved, so let's avoid that. That's something else we manage but that's another blog).
Emails, interviews and ghosting
Ghosting is a fairly new term – often used in the dating world when one of the parties stops replying to all messages. texts, WhatsApps, emails; they go unanswered as if the person has turned into a ghost. Again, it's unbelievably annoying if the other person is 100% your type on paper. We deal with the heartache of ghosting. We also take on the laborious task of calling, emailing and arranging interviews then rearranging them when necessary, ultimately freeing up your time to focus on the day job.
The Feedback loop
Those awkward conversations that no-one likes having, well that's our job too. We know we have to have those chats. We have to deliver the 'it's not you, it's us' or perhaps 'it's you, you're just not the right person for us'. And that feedback goes both ways; the candidates might pull themselves out of the race if you don't seem like a good fit for them. It's down to us to make sure no bridges are burned, and feedback is handled diplomatically. People talk and if you don't get back to interviewees with feedback, either positively or negatively, word can get out and this makes future recruitment more difficult. We're in the Facebook groups, we're talking to the suppliers, and we're ensuring that your feedback is fair and your reputation is protected.
The best bit
Making the job offer and having it accepted is far and away the best part of the process. It's what keeps recruiters coming back to our desks every day but it's not always a straight forward exercise. We'll guide both sides through to make sure it's as stress-free as possible. This can be everything from talking the candidate through how to hand in their notice and dealing with counter-offers to making sure they know where to be and who to meet on their first day with you.
All of this is a moving feast. People are people… they change their minds, have different demands, focus on different priorities and can suddenly change direction. It takes time and effort. Our job as a recruiter is to shield you from any and all of the problems. It's what we're good at, and that's why our HVAC and refrigeration clients come back to us time and again.
Get in touch with our specialist team today for a no-obligation conversation.