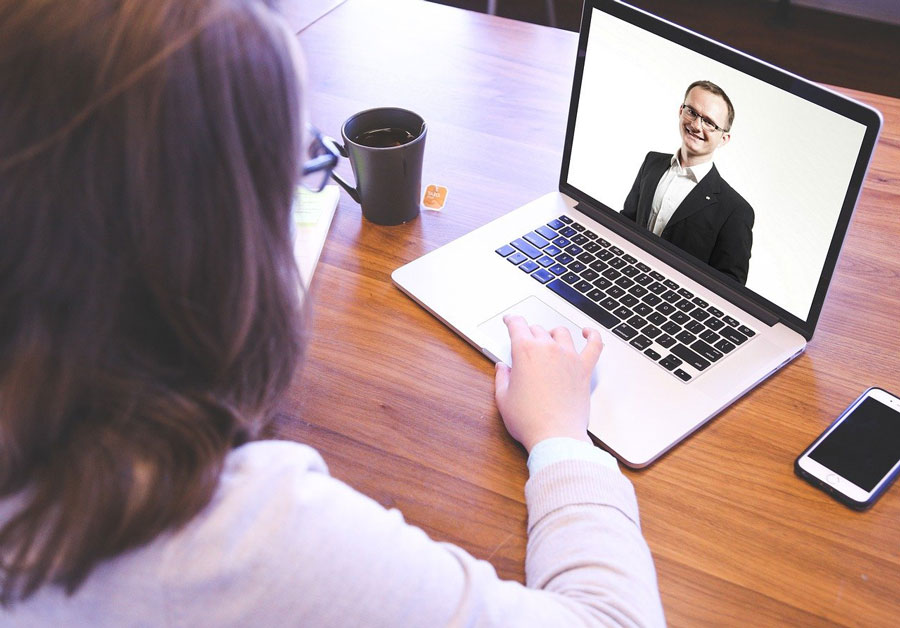 If you search for interview tips online, there are plenty of guides around for you to choose from. You'll easily find top tips on how to impress at interview, from what to wear to the importance of a handshake. Remember handshakes? They might seem like a dim and distant memory. The same goes for in-person interviews. The age of the Zoom interview is upon us, and it's a whole different ball game when it comes to getting a job by video.
There is no need to be overwhelmed, though, even if you are a total novice when it comes to video calling. Our guide to video interviewing will ensure you smash that interview and secure your next job.
Here are 10 top tips for smashing your video interview:
Grab a friend and check the tech
Many of the latest video calling platforms, like Zoom, are free to use (Zoom allows calls up to 40 minutes free on their platform). Make sure you know what platform will be used ahead of time, sign up and get a friend or family member to test out the technology with you. Set up your own call and make sure you are comfortable joining and talking via the platform. One of the biggest' in the moment' stressors with video interviewing is tech problems, so practice first and take this headache out of the equation.
WiFi and phone signal
Plan ahead of time where you will be for your interview. Leading on from the above point, you don't need the added stress of poor signal to ruin your interview. Ideally, you'll be at home, with a strong internet signal or the ability to 'hotspot' to another wi-fi from your phone (practice how to hot-spot if you're going to be in a public place). Keep in mind that if the rest of your household is online, it might impact your signal, so turn off or disconnect any devices not in use. If you're not at home and instead you're out on-site plan when you take the call, spare a thought for signal and location ahead of time.
Think about your 'space'
The background to video calls has recently been given a lot of press coverage, from those who have had something embarrassing behind them to people who carefully select what's on show in their bookcase. In fact, the space or your environment on a Zoom call is almost given as much attention as the person on it!
Think about where you are calling from; ideally, you want a tidy space (no washing. drying etc in the background!), free from distractions, with good natural lighting. If you can face a window, so the light falls directly onto you, that's a big help for creating a clear picture.
Go hands-free
If you have to carry out your video interview on your phone, use a holder of some kind so that you can be hands-free and not having to hold the device at arms-length. The last thing the interviewer needs to see as your phone moves around is a shot of your chin or up your nose! Use a tripod or clip-on holder if you're out or position your phone on a stable surface. This also frees you up to relax into the call, and you'll be able to talk more naturally to your interviewer.
Body language
Body language is just as important in a video interview as it is in person. Sit up straight, focus on the call and not any distractions around you. Our best tip to boost your body language is to push your behind to the back of the seat and imagine a string coming out the top of your head pulling you up. This means you're looking both confident and engaged in the interview process.
Don't be distracted by your own video
One of the biggest distractions on a video interview is seeing yourself on screen. You'll be able to see how you come across, and yes, it is hugely distracting! Try your best not to focus or look at yourself too much, make virtual eye contact with your interviewer as they appear on the screen.
Prepare as you would for an in-person interview
A video interview is no less formal or off-the-record than an in-person interview. Treat your Zoom interview as you would an on-site meeting in terms of preparation. Find out about the hiring company, what jobs they have to offer, what skills they need (and what you can bring to the mix), and think about appropriate questions you can ask them ahead of time.
Dress appropriately
Leading on from the above, make sure you dress appropriately for your video call. Again, just because it's a video interview doesn't mean it's informal – it's your first and possibly only chance to make an impression, so dress appropriately. Ok, that might not mean suited and booted for HVAC engineers, but a tidy, clean appearance goes a long way.
Post-it note tips
One of the things you can get away with on a video call is having more prompts nearby to help you get any points across or to remember to ask any questions. You can use sticky notes or simply stick a piece of paper just behind your screen, but in your eye-line, with any key points you want to get across or with the questions you want to ask the interviewer.
Cope with pauses like a pro
And finally, a tip that media professionals use when they are being interviewed. Coping with pauses can feel uncomfortable, and with any interview, you can feel a need to rush in with an answer. Take a breather and use filler language while you organise your thoughts and form a reply. Just that second or two really does help and ensures you don't trip over your words. Filler language can be something like repeating the question back to the interviewer, or simply saying 'that's a good question', before leading into your reply.
Keep in mind the above points, practice your video call first, and you will be sure to impress on your next Zoom interview.
If you are looking for your next HVAC or refrigeration role, Get in touch with our specialist team today for a no-obligation conversation.