Only 9% of the engineering workforce is female and only 6% of registered engineers and technicians are women. The numbers of females studying engineering is growing across the UK but there is still lots to be done to change the gender gap. Last week we spoke to Lauren, a Mechanical Engineering Graduate from Newcastle, she told us about her experience studying engineering, her views on the industry and how people react when she tells them her degree!
So what made you first choose to study engineering at University?
I didn't know what I wanted to do throughout school and sixth form but I was always good at, and really liked maths and physics. I loved to find ways around problems in the house when I was younger and I would make small contraptions to solve the problems. My older brother is very similar to me and went on to do mechanical engineering at Northumbria University. He would show me videos and projects that he was doing and I thought it would be something I would enjoy, so when it came to deciding what to do at university I decided to do mechanical engineering and ended up at Newcastle University.
Was it hard to get on an Engineering Course? Did you feel prepared to start studying?
I got ABCD in A-level maths, physics, chemistry andgeography. The grades needed for Newcastle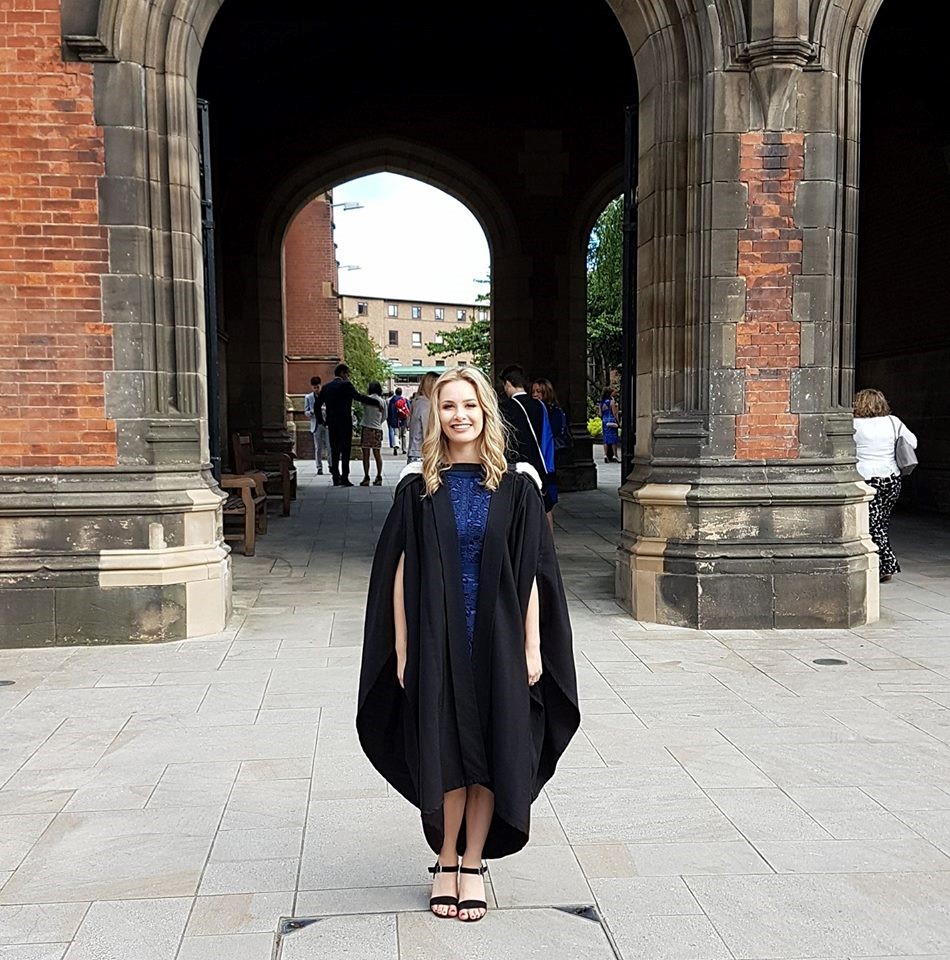 were AAB. I did the partners scheme to lower the grade boundaries to ABB and with the extra credits from an extended project qualification I managed to get in. I had an interview with Newcastle University before I was accepted but I prepared well for it. My first choice was Leeds University which wanted AAA to be accepted and I was rejected from that. It was aspirational so I was disappointed but not surprised. I didn't do further maths at A-level which included a mechanics module so when I got to uni I found that having an A-level in further maths would have really helped, I struggled a lot with the mechanics module when I got to uni.
What was the gender ratio like on your course?
We had 160 students on our course at the beginning and only 11 were girls. My brother only had 6 in his year so I suppose 11 was an improvement! I had only 2 female lecturers throughout the whole 3 years.
Are people often shocked by your degree?
Yeah all of the time! I'm a petite blonde girl so I think they see me as quite a girly girl. It's always fun to shock them with the degree though! I've had one person call me a liar on a night out once. But there is always going to be someone who thinks like that. I expected to have more boys on my course be a less accepting of women engineers but they have all been lovely and have the right views about it.
Have you got a grad job set up?
Not at the minute, I have decided to take a little time off before starting a graduate job.
Is there anything you're looking for in particular, anything you want to go into?
I'm not too fussed about which companies but I would like to go into product design if I can. I'm not 100% sure what field I want to work in but I think product design is a big start in finding that out. I'm also up for working as a mechanical engineer if I struggle to find a job in product design.
Did it take any adjusting to be one of very few women in your university classes and do you think it will be strange when joining a new company?
It wasn't too difficult, I've always had a lot of male friends at school and from what my brother had told me from his year, I had expected there to be few girls. We had a 'women in engineering' lunch in fresher's week which helped us meet the other girls on our course. We have a group of girls that stuck together but most of us mingled with the boys. Everyone got to know our names very quickly as we stood out more so we made friends quite quickly. I think starting a new company may be more difficult as everyone will probably have their own friends in the work place and you have to try and fit in, whereas at uni no one knows anyone at first so people are open to make those friendships with you.
Is there anything you have come across while studying that would put girls off from doing an engineering degree?
Not that I can think of, I think the uni can see how difficult it can be for girls and they've really done well to help us get to know each other. There's a lot of practical work but I'm sure if any girls want to do engineering they can expect that to happen!
Is there anything you would like to see in the future for women in the industry?
I think they're on the right track. They've really tried to get girls into STEM subjects and engineering as a whole to try and steer away from the stereotype. They had people come in at school which swayed me towards engineering. I know the year below me at University had a lot more girls than my year so I think it's working. I think it would be nice to see more women in engineering but at the same time I don't think the men should be penalised for being men if they're better for the job. We're getting there but it will still take some time. The thing I'd like to see most is the stereotype engineering be changed, that will help young girls feel like it's more acceptable to pursue an engineering career but that's easier said than done.
Are you an Engineering Graduate looking for your first step on the career ladder? Here at Calibre Search our specialists are out and out experts in the sectors they work in. They know what's happening in the industry, who the big players are and how to reach them. Check out our job page to find out what is available or alternatively you can email us or give us a call on 0113 423 6047 to see how we can help you.